McGowanPRO Testimonials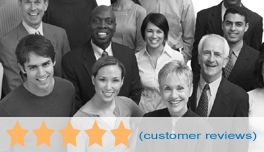 Each of our clients is more than a policy. Your success is important to us. We strive to deliver the highest quality service, products, and resources.
We are proud of what our clients have to say about us, and we're pleased to introduce you to them.
Meet our Clients
Brad Shirer, CFO – Adams Brown Beran & Ball
I've had the pleasure of working with Stephen Vono and McGowanPRO for the past several years on all aspects of our firm's professional liability, cyber, fiduciary and employment practices liability insurance.  He has proven to be a tremendous resource and trusted adviser for our insurance needs and we highly recommend him.
Elise Hoffman, Owner – Elise B. Hoffman, Esq.
"I recently changed my professional liability policy over to McGowanPRO. Working with your team was a pleasure, and they are very helpful and knowledgeable. They explained all of the policy benefits, including a crisis management benefit which addressed concerns I have had about dealing with my practice if there is an emergency."
Donald A. Holyfield, CLU, ChFC – Managing Partner of Sequoyah Planning II, LLC
"Paul Smith and McGowanPRO took the time and consideration to understand the uniqueness of our Registered Investment Advisor firm in order to secure for us competitive Investment Advisors Professional Liability Insurance. I am sincerely appreciative of the Paul's professionalism — he changed the experience from just being information on a form to becoming an advocate for the well-respected comprehensive wealth management firm that we have become. He defines fiduciary responsibility in action, and we highly recommend Paul Smith and McGowanPRO."
Lou Harvey – President/CEO Dalbar
Lou Harvey is relentless in the search for the forces that are shaping the world of financial services today, tomorrow and for years hence.
Kemper Rojas, CPA, CTIP – Managing Principal for Fruci & Associates, PS
"McGowanPRO has been one of the easiest companies to work with. This year Fruci & Associates, PS acquired a subsidiary firm that performs PCAOB audits and attest services, which is work outside of the scope of our current accountants professional liability coverage. After a short conference to explain the nature of how our two businesses work together and the services they provide, McGowanPRO was able to assist us with getting both companies covered under one policy.  We are very happy with the service we received and the policy they were able to find for us!"
Adam S. Bush, CPA – Bush & Luke, LLP
"We have maintained our accountants professional liability insurance through McGowanPRO for the past six years and have been more than pleased with their responsiveness, professionalism, and knowledge. In particular we enjoy their attention to relationships with a nod to creativity and humor that typically is lacking in business transactions. In word: awesome!"